All trails from the East begin at Hrastovica, the village 5 km far from Petrinja (on the road to Jabukovac, the branch of the road Petrinja - Kostajnica).
There a few trails from Hrastovica:

beside "water supply" - about 1 h of walking

via  the ruins of the church St Spirit   - 1 h of walking

the options via the ruins of the Old Town Hrastovica - about 1h 15 min of walking

via "Bunkers" and Paljevine - about 1 h 30 min of walking

"Joso's" trail - 45 min of walking
"Mile's" trail - 1 h of walking

All these trails start in the centre of the village. There are small square, parking, shop  and spring Bartolovac
 Hrastovica
It was famous castle during medieval owned by Zagreb's Kaptol. It is mentioned in the document of Andrija II. (1206th year).

It is destroyed in 1584th year.
GPS tracks: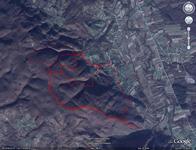 They will be shown in GoogleMaps by clicking on the map icon
 Maps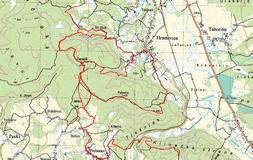 Eastern approach on topographic map 1:25 000k