Target: Hajdučki Kukovi: Golubić (1650 m) - Kuk (1649 m)
Starting point: Škrbina Draga - Tromeđa (1329 m)
Destination point: Lubenovac (1325 m)
Duration: About 5 hours of walking
Difficulty: Medium difficult signed trail.
Altitude difference: 325 m* (see altitude profile)
Attractiveness:  *** (of ***)
 Tagline
A beautiful route through very wild nature, the part of The North Velebit National Park.
There are two summits about 1650 m of altitude with nice views toward other parts of Velebit and toward the continent. Lubenovac is one of the most beautiful valleys in the North Velebit at 1300 m of altitude.

Golubić

can be translated as "a little pigeon" and

Kuk

as "a cliff" ("Kukovi" is pl. - cliffs).
Maps:
Introduction:
These trails are relatively new. They lead through wild and even not well known part of Mt Velebit. Recently, in that area were discovered two holes deeper than 900 m (Luka's Hole and Slovakian Hole). Hajdučki and Rožanski Kukovi are a highly protected area and probably there will not be new trails nor new tourist facilities in the future.
This trip can be combined with the route at The Premužić Trail in the opposite direction. In that case, it is highly recommended to organise transport with cars to Škrbina Draga (Tromeđa) and to Lubenovac in order to save a few hours of walking.
For people who love circled trips, it is possible to start and to finish the route at Lubenovac (see the maps). There is a forest road passable for cars to NE part of Lubenovac, 2 km far from the ruins of a mountain lodge.
In the case of surplus of time and energy it is possible to combine this route with ascent to Vratarski kuk (1676 m). It is additional one hour of walking and climbing in one direction from Lubenovačka Vrata. The trail from Vratarski kuk to The Premužić trail is cancelled.
Appropriate season for ascent:
From May to October. Earlier or later than then deep snow and cold in the rocks can make this trip unpleasant or even dangerous. Current weather conditions at Zavižan are shown here (HR).
The route:
Mountain Lodge Zavižan - Škrbina Draga  - by car: 10 km
Škrbina Draga - Lubenovačka vrata - Golubić kuk : 1 h 30 min

Option: Vratarski kuk: 1 h (in one direction), difficult trail

Golubić kuk - (Hajdučki) Kuk via St Bernard trail : 1h 30 min
Kuk - Velik Lubenovac: 1 h 30 min
Total:

about 5 hours of walking

Alternatives:

Starting and ending point at Lubenovac.
Related trips:
Travel notes:

Mt Velebit, Hajducki and Rozanski kukovi, Jul 24-28, 2008 (HR)
Velebits - Velebit 2006 (HR)
Approach:

The main approach to Škrbina Draga is from the road Zavižan - Lomska Duliba. There is a short branch (1 km long) to Škrbina Draga (Tromeđa). This road is not open (there are locked ramps), but it is possible to ask for the keys of the ramps according to preliminary agreements with the stuff of The North Velebit National Park. Lomska Duliba is accessible from the asphalted road Krasno-Štirovača, too.
Veliki Lubenovac is accessible by unpaved roads from the mountain lodge Begovača (a branch from the asphalted road Krasno -Štirovača) and one from Veliki Alan.
See Approach to Mountain Lodge Zavižan on page N. Velebit - Approach and Accommodation. There are other approaches described in references.
Route description:

The route leads from the Tromeđa. There is a parking at the end of the branch of the road through Lomska Duliba. Close to it there is a branch to The Premužić trail (to Rossi's Shelter - about 1.5 h of walking) and after that there is a branch to Vratarski Kuk. After that, we arrive at the pass Lubenovačka Vrata (The Lubenovac Gate).
A few minutes of walking after the pass there is a branch to Golubić. Here we turn on the left and we leave the trail to Lubenovac. After one hour of ascent we reach the summit (1650 m).
From the summit, we continue by the St Bernard trail. This trail is very nice and difficult (but not dangerous) because it leads from stone to stone. It leads along the connection Golubić - Kuk. After about 1h of walking we come to the crossing. There is the branch to Kuk (15 min). We can leave the backpacks here and climb to Kuk. There are beautiful views toward Lubenovac and summit Veliki Kozjak (1629 m).
From the crossing, there is a very steep descent. It leads near the deep hole with snow (an unsigned branch). After one hour of descent we reach the connection with the trail from Lubenovačka Vrata and we turn on the left toward Lubenovac. We arrive at the NE end of Lubenovac. The ruin of the mountain lodge is at the SE part.
Veliki Kozjak (the summit on the left) and Lubenovac (valley) from Kuk

GPS data: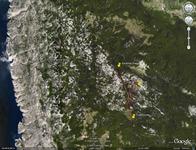 Accommodation:
Recommended equipment (summer):
An appropriate rucksack, mountaineering boots, water, food and other equipment needed for a whole day long walking on karst terrain
Other interesting places:
Lukina Jama (Luka's hole) - 1392 m deep hole (9th in the world). It is placed at the eastern side of Kuk, but the approach is unsigned.
Pisani kamen (The Written Stone).  The stone with a few sentences in Latin (written during the Roman Empire) - 45 min of walking from the road Krasno-Štirovača
See this section on the page:  Velebit - Rožanski Kukovi - Premužić trail
References:
The list of other mountaineering references is here.
NOTES
The trail leads through The North Velebit National Park. The ticket is obligatory (there is a discount for mountaineers) and visiting rules must be strictly followed.
The route is placed in the karst area without drinking water. The mountain lodge Zavižan is supplied with beverages and it is open every day throughout the year. There is collected rainy water at the lodge Zavižan. This water is not recommended for drinking without processing.
The world famous phenomenon of Mt Velebit is strong NE wind called

Bura

(Bora

- eng

). It is the wind of good mood but it is cold and very strong.
Panta rhei (πάντα ῥεῖ), Heraclitus - "Everything is in a state of flux"  - This page is permanently under construction!!!